DEMA Dive Retailer Full Villa Special
Prepare to be spoiled as the Dunbar Rock team takes the worry out of planning & hosting your groups' trip. Enjoy the highest level of customer service, gourmet meals, and no crowds. Enjoy peace of mind vacationing in a COVID safe, remote location with a maximum of only 18 - 22 guests. Amenities include a PADI Dive Center, Ocean Front Rooms and Suites, multiple open-air lounging areas, infinity pool, pool bar, cardio/massage room, beach, and shallow house reef perfect for diving and snorkeling 24/7.
Visit us at the DEMA Show Booth #1014
To book, contact your dive wholesaler of choice, or contact us directly.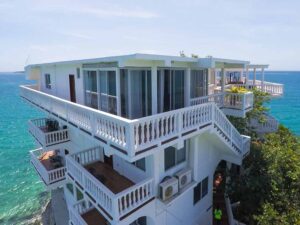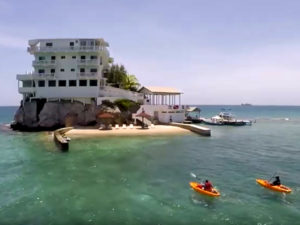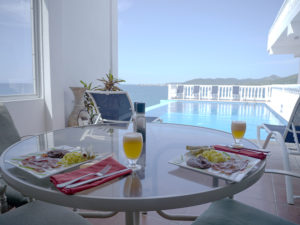 Eighteen people in nine Ocean Front Rooms
The Presidential and Penthouse Suites are not included but are available as add-ons at the reduced rate of $2,350.00 gross + tax pp based on double occupancy. (The standard rate is $2,499.00) 
Upgrades Available if prepaid no later than 14 days prior to arrival

Nitrox: Unlimited for the week. $120.00 pp rack (commissionable) - One comp for every four upgrades pre-sold
Premium Liquor: $150.00 pp (commissionable) - One comp for every four upgrades pre-sold 
Package Includes:

3 gourmet meals daily plus happy hour snacks
Standard Bar Package
Complimentary use of sea kayaks and paddleboards
Boat transfers to and from Guanaja airport
Five days with 3 dives daily, 2 dives on Friday, and unlimited air tanks for shore diving around the Villa (Dunbar Rock only)
Commission:  $3,222.00
$100.00 pp x 17 selling Ocean Front Rooms at the published retail rate $1,700.00
Unlimited Nitrox Upgrade: $120.00 pp commissionable/1 comp for every 4 pre-sold, sell 17, get 3 comps = $120 x 3 $360.00
Pay for 14 x $120.00 = $1680.00 commissionable $168.00
Premium Liquor Upgrade: $150.00 pp commissionable/1 comp for every 4 pre-sold, sell 17, get 3 comps = $150 x 3 $450.00
Pay for 14 x $150.00 = $2100.00 commissionable $210.00
Sub Total: $6,110.00
* Sell the extra two Suites not included in the package price and earn an additional $940.00 in commission and $600.00 in discounts= $1540.00
Total: $7,650.00
A $2,500.00 deposit is required within 14 days to confirm a reservation.
Three months/90 days before arrival, an additional deposit equal to 25% of the gross reservation is due.
Final payment is due 45 days before arrival, along with the final rooming list and completed Guest Information Questionnaire for all guests.
Anytime a payment is 7 or more days past due, we reserve the right to cancel your reservation and attempt to sell ourselves any rooms for which your payments are not current. Such spaces will not be available for you to rebook unless full non-refundable payment is provided at the time of rebooking.